---
What to Do If You See a Pet Left Out in the Cold
NASA Fuel Shortage: Will Plutonium Scarcity End Deep-Space Exploration By 2020?
Theoretical physics: The origins of space and time
Alien Earths are out there: Our home world is not 'unique' 'Recipe for habitable planets' issued by Harvard
Mind Over Matter ~ The Power of the Human Mind ~ Full Length Documentary Film 2014
How Precious Metals are Used: History & Applications ~ Gold, Silver, Platinum, Palladium, Rhodium
Three Perceived Laws of Motion that are Incorrect
Empty Space is NOT Empty
5 Fun Physics Phenomena
Posted: 07 Jan 2015 03:47 PM PST
It can be a crime to leave pets outside in extreme temperatures without food and shelter
Cold weather can be deadly for pets. As the temperature plummets in many parts of the country, The Humane Society of the United States sees a marked increase in the number of complaints about dogs and cats who have been left outside with no food or shelter.

We encourage you to contact local law enforcement agencies because pets left outside in extreme temperatures, especially without food and shelter, are at risk of hypothermia, frostbite and even death. Their owners are at risk of facing criminal charges.

The act of leaving a pet outside without food or adequate shelter often receives less attention than a violent attack against an animal, but neglect is a crime. "Especially in these cold months, it is important for people to bring their pets inside and for others to report neglected animals to law enforcement," says Ashley Mauceri, HSUS manager for cruelty response, who fields these calls.


One of the most common forms of animal cruelty, cases of animals left outside in dangerous weather are investigated more by police and animal control agencies than any other form of animal abuse. Our most constant companions—dogs and cats—feel the effects of winter weather as much as we do, only they are often cast outside to weather the cold or a storm owing to a misconception that the fur on their backs will insulate them from suffering. Without proper shelter, food and water, these domesticated animals' chances of survival in frigid temperatures is greatly decreased. Any pet owners who aren't sure what protections their pets need during cold weather can read our cold-weather advice for keeping pets safe.

While views on animal welfare vary from region to region, there are laws in place in every state to prevent needless suffering. Callers to The HSUS report numerous cases across the country of animals left out in the cold, but the organization is also working with an increasing number of law enforcement agencies that recognize the importance of intervention in these cases.

The facts
Animal neglect is considered a misdemeanor crime in all 50 states and Washington, D.C.

Felony penalties can be levied in Massachusetts and Oklahoma for any animal neglect case.

Felony charges can be applied in animal neglect resulting in death in California, Connecticut, Florida and Washington, D.C.
How you can help
Posted: 07 Jan 2015 03:36 PM PST

Excerpt from isciencetimes.com
A plutonium pellet, the fuel that keeps NASA space exploration going. (Photo: Creative Commons)
NASA is running out of fuel. According to Wired, the nation's civilian space program is dangerously low on plutonioum-238, a radioactive isotope that NASA uses to power its space probe missions. In fact, its current stockpile will last only until about 2020.


Exactly how much plutonium-238 does NASA have in its storehouse? Yahoo reports that the government program has just 36 pounds left. That might sound like a lot -- or a little, depending on how familiar you are with plutonium-238 -- but consider that a single plutonium-238 battery, like the one currently fueling the space program's Mars Curiosity rover, contains about 10 pounds of the isotope.

Plutonium-238 is an extremely efficient -- but extremely expensive -- fuel source. The isotope is made in a nuclear reactor, and can produce small quantities of electricity consistently for several decades. A single gram, or about .002 pounds, of plutonium-238 can produce .5 watts of power. A 10-pound chunk of plutonium can produce about 2,268 watts of power.

As the isotope breaks down, or decays, it releases energy. So much energy, in fact, that its temperature can reach 2,300 degrees Fahrenheit. A plutonium-238 battery is rigged in a way that turns this heat into power. This is called a radioisotope thermoelectric generator, or RTG.

"It's like a magic isotope. It's just right," Jim Adams, NASA's deputy chief technologist, told Wired.

There used to be a ton of it in space -- it was the product of exploding stars -- but that was billions of years ago. The isotope's half-life, the time it takes for half of the material to decay, is about 88 years. So it's long gone by now.

According to NPR, plutonium-238 batteries have powered about two dozen space missions since NASA's inception. That includes the Voyager probes in the 1970s (one of which recently exited our solar system), the Cassini spacecraft and the Mars Curiosity rover. It's even used in spy satellites.

But the plutonium-238 won't last forever.

"We've been living off of the material that we had produced up until that time, and if you keep using material and you have a finite supply, eventually you run out, and that's where we are right now," Ralph McNutt, a planetary scientist at the Johns Hopkins University Applied Physics Laboratory, told NPR in 2009.
Until recently, the U.S. hasn't made plutonium since the 1980s.
They originally made it as a byproduct of Cold War activities. And after the U.S. stopped manufacturing the isotope, it started buying it from Russia. Their first shipment to the states was in 1993. It weighed 36 pounds and cost the U.S. $45,000 per ounce, or roughly $26 million for the whole batch. But that market shuttered in 2009.

According to the U.S. Department of Energy, the U.S. government has 87 pounds of plutonium-238 to divvy up between its departments. Two-thirds of it goes to national security projects. NASA gets just 36 of it.


Posted: 07 Jan 2015 03:22 PM PST


Excerpt from nature.com
By Zeeya Merali


Many researchers believe that physics will not be complete until it can explain not just the behaviour of space and time, but where these entities come from.

"Imagine waking up one day and realizing that you actually live inside a computer game," says Mark Van Raamsdonk, describing what sounds like a pitch for a science-fiction film. But for Van Raamsdonk, a physicist at the University of British Columbia in Vancouver, Canada, this scenario is a way to think about reality. If it is true, he says, "everything around us — the whole three-dimensional physical world — is an illusion born from information encoded elsewhere, on a two-dimensional chip". That would make our Universe, with its three spatial dimensions, a kind of hologram, projected from a substrate that exists only in lower dimensions.

This 'holographic principle' is strange even by the usual standards of theoretical physics. But Van Raamsdonk is one of a small band of researchers who think that the usual ideas are not yet strange enough. If nothing else, they say, neither of the two great pillars of modern physics — general relativity, which describes gravity as a curvature of space and time, and quantum mechanics, which governs the atomic realm — gives any account for the existence of space and time. Neither does string theory, which describes elementary threads of energy.
Free podcast
Zeeya Merali discusses some of the theories that are trying to explain the origins of space and time.
Van Raamsdonk and his colleagues are convinced that physics will not be complete until it can explain how space and time emerge from something more fundamental — a project that will require concepts at least as audacious as holography. They argue that such a radical reconceptualization of reality is the only way to explain what happens when the infinitely dense 'singularity' at the core of a black hole distorts the fabric of space-time beyond all recognition, or how researchers can unify atomic-level quantum theory and planet-level general relativity — a project that has resisted theorists' efforts for generations.

"All our experiences tell us we shouldn't have two dramatically different conceptions of reality — there must be one huge overarching theory," says Abhay Ashtekar, a physicist at Pennsylvania State University in University Park.

Finding that one huge theory is a daunting challenge. Here, Nature explores some promising lines of attack — as well as some of the emerging ideas about how to test these concepts...
Posted: 07 Jan 2015 03:11 PM PST

Excerpt from theregister.co.uk

New research suggests planets similar to Earth are much more common across the galaxy than previously thought.

And the boffins behind this revelation have also come up with a simple chemical recipe for creating habitable worlds suitable for use by advanced super-powered intelligences and/or deities etc.
"Our solar system is not as unique as we might have thought," says Courtney Dressing, graduate student at the Harvard-Smithsonian Center for Astrophysics.

Ms Dressing bases this assertion on data from the HARPS-North (High-Accuracy Radial velocity Planet Searcher, Northern) instrument on the 3.6-metre Telescopio Nazionale Galileo in the Canary Islands. This is designed to accurately measure the masses of small, Earthish-sized worlds. Once you have mass and volume, as any fule kno, you have density and thus a fair notion of what a given alien world is made of - and this tells you whether it can be much like Earth.


So chuffed are the Harvard boffins with this discovery that they've come up with a handy "recipe" for cooking up a world with Earth-esque life on it, thus:
1 cup magnesium
1 cup silicon
2 cups iron
2 cups oxygen
½ teaspoon aluminum
½ teaspoon nickel
½ teaspoon calcium
¼ teaspoon sulfur
dash of water delivered by asteroids
Blend well in a large bowl, shape into a round ball with your hands and place it neatly in a habitable zone area around a young star. Do not over mix. Heat until mixture becomes a white hot glowing ball. Bake for a few million years. Cool until color changes from white to yellow to red and a golden-brown crust forms. It should not give off light anymore. Season with a dash of water and organic compounds. It will shrink a bit as steam escapes and clouds and oceans form. Stand back and wait a few more million years to see what happens.

If you are lucky, a thin frosting of life may appear on the surface of your new world.
Posted: 07 Jan 2015 03:05 PM PST
Posted: 07 Jan 2015 02:53 PM PST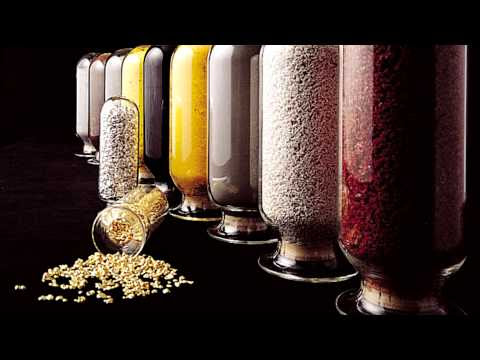 Posted: 07 Jan 2015 02:48 PM PST
Newton's Three Laws of Motion are a landmark achievement in physics. They describe how all objects move. Unfortunately most people do not really understand Newton's Laws because they have pre-existing ideas about the way the world works. This film is about those pre-existing ideas. By recognizing what people are thinking, it becomes easier to describe the correct scientific concepts of Newton's Three Laws and how they differ from this 'intuitive physics'.
Posted: 07 Jan 2015 02:39 PM PST
Click to zoom
Posted: 07 Jan 2015 02:37 PM PST
Click to zoom