---
How Obama wants to spend Americans' money next year: an agency-by-agency look
6 Supermaterials That Could Change Our World
How to quit your life - and reboot ~ Priya Parker
Jupiter at its biggest, brightest for two weeks
4.4 Billion Year Old Meteorite From Elusive Martian Crust
What you don't know about marriage ~ Jenna McCarthy
How Many Stars Did It Take to Make Us?
Planets X & Y on Coast to Coast Radio
10 Mysterious Biblical Figures No One Can Explain
Posted: 02 Feb 2015 11:32 PM PST
President Barack Obama's new $4 trillion budget plan is distributed by the Senate Budget Committee as it arrives on Capitol Hill in Washington, early Monday, Feb. 02, 2015. The fiscal blueprint for the budget year that begins Oct. 1, seeks to raise taxes on wealthier Americans and corporations and use the extra income to lift the fortunes of families who have felt squeezed during tough economic times. Republicans, who now hold the power in Congress, are accusing the president of seeking to revert to tax-and-spend policies that will harm the economy while failing to do anything about soaring spending on government benefit programs. (AP Photo/J. Scott Applewhite)
Excerpt from therepublic.com

WASHINGTON — Sure, $4 trillion sounds like a lot. But it goes fast when your budget stretches from aging highways to medical care to space travel and more.

Here's an agency-by-agency look at how President Barack Obama would spend Americans' money in the 2016 budget year beginning Oct. 1:

---
HEALTH AND HUMAN SERVICES
Up or down? Up 4.3 percent
What's new? Medicare could negotiate prices for cutting-edge drugs.
Highlights:
— The president's proposed health care budget asks Congress to authorize Medicare to negotiate what it pays for high-cost prescription drugs and for biologics, including advanced medications for diseases such as rheumatoid arthritis. Currently, private insurers bargain on behalf of Medicare beneficiaries. Drug makers have beaten back prior proposals to give Medicare direct pricing power. But the introduction of a $1,000-a-pill hepatitis-C drug last year may have shifted the debate.
— Tobacco taxes would nearly double, to extend health insurance for low-income children. The federal cigarette tax would rise from just under $1.01 per pack to about $1.95 per pack. Taxes on other tobacco products also would go up. That would provide financing to pay for the Children's Health Insurance Program through 2019. The federal-state program serves about 8 million children, and funding technically expires Sept. 30. The tobacco tax hike would take effect in 2016.
— Starting in 2019, the proposal increases Medicare premiums for high-income beneficiaries and adds charges for new enrollees. The charges for new enrollees include a home health copayment, changes to the Part B deductible, and a premium surcharge for seniors who've also purchased a kind of supplemental insurance whose generous benefits are seen as encouraging overuse of Medicare services.
— There's full funding for ongoing implementation of Obama's health care law.
—The plan would end the budget sequester's 2 percent cut in Medicare payments to service providers and repeal another budget formula that otherwise will result in sharply lower payments for doctors. But what one hand gives, the other hand takes away. The budget also calls for Medicare cuts to hospitals, insurers, drug companies and other service providers.
The numbers:
Total spending: $1.1 trillion, including about $1 trillion on benefit programs including Medicare and Medicaid, already required by law.
Spending that needs Congress' annual approval: $80 billion.
---
NASA
Up or down? Up 2.9 percent
What's new? Not much. Just more money for planned missions.
Highlights:
—The exploration budget — which includes NASA's plans to grab either an asteroid or a chunk of an asteroid and haul it closer to Earth for exploration by astronauts — gets a slight bump in funding. But the details within the overall exploration proposal are key. The Obama plan would put more money into cutting-edge non-rocket space technology; give a 54 percent spending jump to money sent to private firms to develop ships to taxi astronauts to the International Space Station; and cut by nearly 12 percent spending to build the next government big rocket and capsule to carry astronauts. Congress in the past has cut the president's proposed spending on the private firms and technology and boosted the spending on the government big rocket and capsule.
—The president's 0.8 percent proposed increase in NASA science spending is his first proposed jump in that category in four years. It's also the first proposed jump in years in exploring other planets. It includes extra money for a 2020 unmanned Martian rover and continued funding for an eventual robotic mission to Jupiter's moon Europa. But the biggest extra science spending goes to study Earth.
— Obama's budget would cut aeronautics research 12 percent from current spending and slash NASA's educational spending by 25 percent. It also slightly trims the annual spending to build the over-budget multi-billion dollar James Webb Space Telescope, which will eventually replace the Hubble Space Telescope and is scheduled to launch in 2018.
The numbers:
Total spending: $18.5 billion
Spending that needs Congress' annual approval: $18.5 billion
---
TRANSPORTATION
Up or down? Up 31 percent
What's new? A plan to tackle an estimated $2 trillion in deferred maintenance for the nation's aging infrastructure by boosting highway and transit spending to $478 billion over six years.
Highlights:
— The six-year highway and transit plan would get a one-time $238 billion infusion from the general treasury. Some of the money would be offset by taxing the profits of U.S. companies that haven't been paying taxes on income made overseas. That infusion comes on top of the $35 billion a year that normally comes from gasoline and diesel taxes and other transportation fees.
— The proposal also includes tax incentives to encourage private investment in infrastructure, and an infrastructure investment bank to help finance major transportation projects.
— The new infrastructure investment would be front-loaded. The budget proposes to spend the money over six years and pay for the programs over 10 years.
— The proposal also includes a new Interagency Infrastructure Permitting Improvement Center to coordinate efforts across nearly 20 federal agencies and bureaus to speed up the permitting process. For example, the Coast Guard, Corps of Engineers and Transportation Department are trying to synchronize their reviews of projects such as bridges that cross navigation channels.
The numbers:
Total spending: $94.5 billion, including more than $80 billion already required by law, mostly for highway and transit aid to states and improvement grants to airports.
Spending that needs Congress' annual approval: $14.3 billion.
---
Associated Press writers Ricardo Alonso-Zaldivar, Seth Borenstein, Joan Lowy and Connie Cass contributed to this report.
Posted: 02 Feb 2015 11:19 PM PST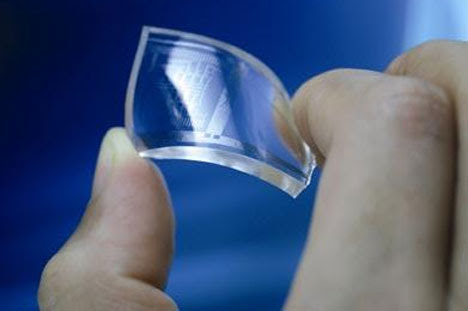 Graphene

Excerpt from gizmodo.com
Graphene isn't the only game-changing material to come out of a lab. From aerogels nearly as light as air to metamaterials that manipulate light, here are six supermaterials that have the potential to transform the world of the future.
Self-healing Materials — Bioinspired Plastics
Self-healing plastic. Image credit: UIUC
The human body is very good at fixing itself. The built environment is not. Scott White at the University of Illinois at Urbana Champlain has been engineering bioinspired plastics that can self-heal. Last year, White's lab created a new polymerthat oozes to repair a visible hole. The polymer is embedded with a vascular system of liquids that when broken and combined, clot just like blood. While other materials have been able to heal microscopic cracks, this new one repaired a hole 4 millimeter wide with cracks radiating all around it. Not big deal for a human skin, but a pretty big deal for plastic.
Engineers have also been envisioning concrete, asphalt, and metal that can heal themselves. (Imagine a city with no more potholes!) The rub, of course, lies in making them cheap enough to actually use, which is why the first applications for self-healing materials are most likely to be in space or in remote areas on Earth.
Thermoelectric Materials — Heat Scavengers
Power blocks with thermoelectric material sued inside Alphabet Energy 's generator. Image credit: Alphabet Energy
If you've ever had a laptop burn up in your lap or touched the hot hood of car, then you've felt evidence of waste. Waste heat is the inevitable effect of running any that device that uses power. One estimate puts the amount of waste heat as two-thirds of all energy used. But what if there was a way to capture all that wasted energy? The answer to that "what if" is thermoelectric materials, which makes electricity from a temperature gradient.
Last year, California-based Alphabet Energy introduced a thermoelectric generator that plugs right into the exhaust pipe of ordinary generator, turning waste heat back into useful electricity. Alphabet Energy's generator uses a relatively cheap and naturally occurring thermoelectric material called tetrahedrite. Alphabet Energy says tetrahedrite can reach 5 to 10 percent efficiency.
Back in the lab, scientists have also been tinkering with another promising and possibly even more efficient thermoelectric material called skutterudite, which is a type of mineral that contains cobalt. Thermoelectric materials have already had niche applications—like on spacecraft—but skutterudite could get cheap and efficient enough to be wrapped around the exhaust pipes of cars or fridges or any other power-hogging machine you can think of. [Nature, MIT Technology Review,New Scientist]
Perovskites — Cheap Solar Cells
Solar cells made of perovskites. Image credit: University of Oxford
The biggest hurdle in moving toward renewable energy is, as these things always are, money. Solar power is getting ever cheaper, but making a plant's worth of solar cells from crystalline silicon is still an expensive, energy-intensive process. There's an alternative material that has the solar world buzzing though, and that's perovskites.
Perovskites were first discovered over a century ago, but scientists are only just realizing its potential. In 2009, solar cells made from perovskites had a solar energy conversion efficiency of a measly 3.8 percent. In 2014, the number had leapt to 19.3 percent. That may not seem like much compared to traditional crystalline silicon cells with efficiencies hovering around 20 percent, but there's two other crucial points to consider: 1) perovskites have made such leaps and bounds in efficiency in just a few years that scientist think it can get even better and 2) perovskites are much, much cheaper.
Perovskites are a class of materials defined by a particular crystalline structure. They can contain any number of elements, usually lead and tin for perovskites used in solar cells. These raw materials are cheap compared to crystalline silicon, and they can be sprayed onto glass rather than meticulously assembled in clean rooms. Oxford Photovoltaics is one of the leading companies trying to commercialize perovskites, which as wonderful as they have been in the lab, still do need to hold up in the real world. [WSJ, IEEE Spectrum, Chemical & Engineering News, Nature Materials]
Aerogels — Superlight and Strong
Image credit: NASA
Aerogels look like they should not be real. Although ghostly and ethereal, they can easily withstand the heat of a blowtorch and the weight of a car. The material is almost what exactly the name implies: gels where where the liquid has been replaced entirely by air. But you can see why it's also been called "frozen smoke" or "blue smoke." The actual matrix of an aerogel can be made of any number of substances, including silica, metal oxides, and, yes, also graphene. But the fact that aerogel is actually mostly made of air means that it's an excellent insulator (see:blowtorch). Its structure also makes it incredibly strong (see: car).
Aerogels do have one fatal flaw though: brittleness, especially when made from silica. But NASA scientists have been experimenting with flexible aerogels made of polymers to use insulators for spacecraft burning through the atmosphere. Mixing other compounds into even silica-based aerogels could make them more flexible. Add that to aerogel's lightness, strength, and insulating qualities, and that's one incredible material. [New Scientist, Gizmodo]
Metamaterials — Light Manipulators
If you've heard of metamaterials, you likely heard about it in a sentence that also mentioned "Harry Potter" and "invisibility cloak." And indeed, metamaterials, whose nanostructures are design to scatter light in specific ways, could possibly one day be used to render objects invisible—though it still probably wouldn't be as magical as Harry Potter's invisibility cloak.
What's more interesting about metamaterials is that they don't just redirect visible light. Depending on how and what a particular metamaterial is made of, it can also scatter microwaves, radiowaves, or the little-known T-rays, which are between microwaves and infrared light on the electromagnetic spectrum. Any piece of electromagnetic spectrum could be manipulated by metamaterials.
That could be, for example, new T-ray scanners in medicine or security or a compact radio antennae made of metamaterials whose properties change on the fly. Metamaterials are at the promising but frustrating cusp where the theoretical possibilities are endless, but commercialization is still a long, hard road. [Nature,Discover Magazine]
Stanene — 100 percent efficient conductor
The molecular structure of stanene. Image credit: SLAC
Like the much better known graphene, stanene is also made of a single layer of atoms. But instead of carbon, stanene is made of tin, and this makes all the difference in allowing stanene to possibly do what even wondermaterial extraordinaire graphene cannot: conduct electricity with 100 percent efficiency.
Stanene was first theorized in 2013 by Stanford professor Shoucheng Zhang, whose lab specializes in, along other things, predicting the electronic properties of materials like stanene. According to their models, stanene is a topological insulator, which means its edges are a conductor and its inside is an insulator. (Think of a chocolate-covered ice cream bar. Chocolate conductor, ice cream insulator.)
This means stanene could conduct electricity with zero resistance even, crucially, at room temperature. Stanene's properties have yet to been tested experimentally—making a single-atom sheet tin is no easy task—but several of Zhang's predictions about other topological insulators have proven correct.
If the predictions about stanene bear out, it could revolutionize the microchips inside all your devices. Namely, the chips could get a lot more powerful. Silicon chips are limited by the heat created by electrons zipping around—work 'em too fast and they'll simply get too hot. Stanene, which conducts electricity 100 percent efficiency, would have no such problem. [SLAC, Physical Review Letters, Scientific American]
Posted: 02 Feb 2015 11:10 PM PST
Click to zoom
Posted: 02 Feb 2015 11:10 PM PST

Excerpt from pressofatlanticcity.com
By FRED SCHAAF


These next two weeks Jupiter is at its brightest and biggest while Venus and Mars are pulling together. And the International Space Station makes some great passes.


Jupiter and the full moon. The exciting sights start tonight. If the sky is clear enough, we can see the exactly full moon rise with now brilliant Jupiter to its left. The precise time of this full moon is
6:09 p.m. By then, it has climbed above the eastern horizon and the sky has darkened enough for us to see Jupiter as a bright point of light directly to the left of it.

The two are not extremely close together (a bit more than half the width of your fist at arm's length apart), but they are so bright that their pairing is very impressive. Watch them stay together as they journey from east to west during the course of the entire night.
Jupiter at its best. The moon rises an average of an hour later each night. But for the next few weeks, Jupiter keeps rising around sunset, being highest at midnight, and setting around sunrise. In 2015, this is also the time of year when sun, Earth and Jupiter are approximately lined up, and Jupiter is therefore closest to Earth. That means Jupiter appears its brightest and, in telescopes, its biggest.

Notice that a fairly bright star rises about an hour after Jupiter and pursues the planet across the sky. That is Regulus, the star that marks the heart of noble Leo the Lion. If skies are clear Thursday evening, the moon is rather near Regulus and can help you identify the star.

Not all of us have access to a telescope. But if you do, Jupiter looks fantastic. I'll be discussing the telescopic view of Jupiter in upcoming columns. And if you don't have a telescope, I'll be telling you about several public events where you can get good views through telescopes for free...
Posted: 02 Feb 2015 11:04 PM PST


Excerpt from designntrend.com

Research on a 4.4 billion-year-old meteorite reveals that it is a piece of the Red Planet's crust - the first piece of its kind to reach Earth.

The study, which was carried out by researchers at Brown University suggests the Martian landscape is made largely of composite rocks rather than the igneous type...

The meteorite colloquially known as Black Beauty, or formally as NWA 7034, was found a few years ago in Morocco.
It is a breccia or a mix of different rock types, which have welded together in a basaltic matrix.

Some of the components found in the meteorite match rock samples analyzed by the Mars rovers.

Spectroscopic measurements of the meteorite match the orbital measurements of the Red Planet's dark plains - areas where the planet's coating of red dust is thin and the crust lies exposed...

Black Beauty is illustrative of the "bulk background" of rocks on the Martian surface, Kevin Cannon, a Brown University graduate student and lead author of the new paper, said in a statement.
"This is showing that if you went to Mars and picked up a chunk of crust, you'd expect it to be heavily beat up, battered, broken apart and put back together," Cannon said.

The research, co-authored by Jack Mustard from Brown and Carl Agee from the University of New Mexico, is published in the journal Icarus.

Analysis carried out in 2011, showed that Black Beauty was unlike any Martian meteorite ever found, most of which belong to igneous rocks made from cooled volcanic material...



Posted: 02 Feb 2015 10:22 PM PST
Click to zoom
Posted: 02 Feb 2015 10:02 PM PST
Click to zoom
Posted: 02 Feb 2015 09:52 PM PST
Posted: 02 Feb 2015 09:49 PM PST

listverse.com

The canonical Bible is filled with mysterious characters, many of whom drop in for a cameo, do their thing, and then slide out, never to be heard from again. Some are merely extras, but some have a contextual presence that begs further examination. And some are, well, just weird.
10 Melchizedek


Probably the single most mysterious figure in the Bible, Melchizedek was a priest-king of Salem (later known as Jerusalem) in the time of Abram (Abraham), suggesting a religious organization, complete with ritual and hierarchy, that predated the Jewish nation and their priestly lineage from the tribe of Levi. He is only portrayed as active in one passage, although he is alluded to once in Psalms, and several times in the New Testament's Epistle to the Hebrews.
Some Jewish disciplines insist that Melchizedek was Shem, Noah's son. He is thought of, in Christian circles, as a proto-messiah, embodying certain traits later given to Christ. New Testament writings assert that Christ was "a priest forever in the order of Melchizedek," indicating an older and deeper covenant with God than the Abrahamic-Levite lineage.
Hebrews 7, though presents him in a more unusual light. In verses 3 and 4:
"Without father, without mother, without descent, having neither beginning of days, nor end of life; but made like unto the Son of God; abideth a priest continually. Now consider how great this man was, unto whom even the patriarch Abraham gave the tenth of the spoils."
Not only do these verses grant Melchizedek a hierarchical level above the most important Jewish patriarch, they assign him mystical qualities. Some take this to mean an earlier incarnation of Christ. Others see it as an ancient manifestation of the Holy Spirit. His identity, role, and theological function have long been debated.
The paucity of scriptural references have added to the mystery, making him a somewhat spectral figure. As such, newer spiritual traditions, as well as New Age quacks, have taken liberties with his persona. Gnostics insisted he became Jesus, and he is cited as a high-level priest in Masonic and Rosicrucian lore. Joseph Smith wrote that he was the greatest of all prophets, and Mormons still trace their priesthood back to him. The Urantia, a 20th-century pseudo-Bible that claims to merge religion, philosophy, and science, insists he's the first in an evolutionary succession of deification manifestations, with Abraham being his first convert.
There is even a school of thought that Melchizedek is a title or assumed character name, sort of a theological 007, played by a series of Judeo-Christian James Bonds.

The lore of Melchizedek is confusing but deep and fascinating. Apocryphal books give us more details, some cryptic, some relatively mundane. The Second Book of Enoch is particularly informative, insisting Melchizedek was born of a Virgin. When his mother Sophonim (the wife of Noah's brother Nir) died in childbirth, he sat up, clothed himself, and sat beside her corpse, praying and preaching. After 40 days, he was taken by an archangel to the Garden of Eden, protected by angels and avoiding the Great Flood without passage on Uncle Noah's ark.
9 Cain's Wife


Cain was, according to Genesis, the first human ever born. He later killed his younger brother Abel in a hissy fit over his sacrifice of meat being more favored than Cain's sacrificial fruit basket. God put a mark on Cain and cursed the ground he farmed, forcing him into a life as a wandering fugitive.

That part of the story is fairly well known. Later, though, we read that he settled in the Land of Nod, and, all of a sudden, he has a wife. Absolutely nothing else is mentioned about her. We don't even know where she came from. In fact, the question of where Cain got his wife, when his immediate family were apparently the only people in the world, has sent many a perceptive young Sunday schooler down the road of skepticism.

Some have posited a mysterious other tribe of people, maybe created after Adam and Eve, maybe even another race or species. But the standard response is that Adam and Eve had many other sons and daughters to populate the Earth. The only way to keep the human race going would be to mate with siblings, nieces, nephews, and cousins.

In fact, though the Holy Bible is silent on her identity, the apocryphal Book of Jubilees tells us exactly who was Cain's wife: his sister Awan, who bore his son Enoch.
8 Joseph Barsabbas


After Judas Iscariot turned in his resignation by selling out his boss, Jesus's disciples rushed to fill the open position and bring the number back up to a more theologically apt 12. The remaining disciples, including the newly convinced Thomas, looked over the candidates from the 120 or so adherents who followed Jesus. Then they cast lots to pick who would fill the position.

It went to Matthias, a fairly mysterious character himself. We don't know where he came from or his previous occupation. Some think he was actually the diminutive Zacchaeus, the tax collector who climbed a sycamore tree to get a better glimpse of Jesus's ride on the donkey.
The man who lost out was Joseph Barsabbas, also known as Joseph Justus. We know nothing solid about him, even less than we know about Matthias.
There is, however, one bit of interesting speculation. A list of names presented in Mark 6:3 includes some of Christ's earliest and most loyal adherents. One of these is a man named Joses, and another is James the Just. Biblical scholar Robert Eisenman suggests that James carried on Jesus's work, and the writer of the Book of Acts assigned him an alias to minimize his importance.
7 The Beloved Disciple


In the Gospel of John, several references are made to "the disciple whom Jesus loved." This particular favorite is present at the Last Supper, the crucifixion, and after the resurrection. The writer of the Gospel of John even states that the testimony of this disciple is the basis for the text. But there is considerable debate over the identity of this mystery figure.
The most obvious nominee is John the Apostle, one of Christ's inner circle of 12 and the namesake of the Gospel. But none of the 12 apostles were present at the crucifixion, so that crosses him off the list. Lazarus, resurrected by Christ, is also considered. He seems to have been present at the cited events and is referred to specifically, in the story of His death and resurrection, as "he whom Thou lovest."
Mary Magdalene, Judas, Jesus's brother James, or an unnamed disciple, possibly even a Roman or governmental official, have all been considered. There is even a school of thought that John is an interactive gospel, with the reader being the beloved disciple.
6 Simon Magus


"Simony" is the selling of church position or privilege. It is named for Simon Magus, or Simon the Magician, who makes only a brief appearance in the Bible, in Acts 8:9–24. Simon has since become synonymous with heretical thought, and religious exploitation.
He is presented as a powerful magician with a large following of in Samaria, who converts to Christianity and wishes to learn from apostles Peter and Phillip. When he sees the gifts of the Holy Spirit, including speaking in tongues and an ecstatic spiritual state, he offers the men money if they will give him the secret to passing these gifts to others. They are not amused.
Apocryphal texts reveal quite a bit more, like his alleged ability to levitate and even fly, emphasizing that he was something akin to a cult leader in his hometown. It is suggested that his conversion is more for economic purposes than spiritual, and he set himself up as a messianic figure himself, competing for the Jesus dollar with his own homespun theology.
He is thought by some to be a founder of Gnosticism, a patchwork of various religious systems that relied heavily on Judaic and Christian symbolism.

5 Onan


Not unlike Simon Magus, Onan's brief appearance inspired a name for a particular action.
He was the second son of Abraham's grandson Judah, the patriarch and namesake of one of the 12 tribes of Israel. His older brother, Er (yes, just "Er") was "wicked in the sight of the Lord," so God killed him. What he did to deserve such an execution remains a mystery.
Tradition at the time dictated that Er's widow, Tamar, become Onan's wife. Onan had to impregnate her to keep the lineage alive, but he was not as wild about the idea. Maybe it was the thought of impending fatherhood, or Tamar just wasn't his type. So, taking matters into his own hands, he committed the first recorded act of coitus interruptus. Or, as Genesis 38:9 so poetically put it: "And Onan knew that the seed should not be his; and it came to pass, when he went in unto his brother's wife, that he spilled it on the ground, lest that he should give seed to his brother."God was displeased and slew Onan.
The whole tale gets even more sordid. Onan had a younger brother, Shelah. Customarily, he would have been next in line to impregnate Tamar, but Judah forbade it. Tamar, rather than graciously accepting forced spinsterhood, seduced Judah and (became pregnant) by the old man. Judah fathered twins Zerah and Perez, the latter of whom was listed by Matthew as an ancestor of Jesus's earthly father Joseph...
Some have even suggested that Onan's death warns that sex is meant only for purposes of reproduction, and not for pleasure.
4 Nicodemus


Nicodemus was a member of the Sanhedrin, a council of men who ruled on Jewish law and governance. He became a friend, follower, and intellectual foil for Jesus, whose egalitarian teachings often ran counter to the Sanhedrin's rigid decrees. He was also a Pharisee, a leader within the Jewish community who toadied up to the Roman government at the time of Christ's arrest and subsequent crucifixion.
He is mentioned three times in the New Testament, all in the Gospel of John. He subtly defends Jesus as the Pharisees discuss His impending arrest. Later, he helps prepare Jesus's body for burial, indicating he had become an adherent to Christ and His teachings.
The first time he is mentioned, however, is in dialogue with Jesus, and these conversations reveal some of the most important aspects of Christian theology, such as the notion of being "born again" and the most famous reference to the divinity of Christ, John 3:16: "For God so loved the world, that he gave his only begotten Son, that whosoever believeth in him should not perish, but have everlasting life."
This detailed conversation explores the divide between the Old Covenant's dogmatic and exclusive Jewish Law and the New Covenant's spiritually inclusive concepts. But for a vital contributor to such an important passage of the New Testament, Nicodemus remains a mysterious figure. Some scholars have suggested he may be Nicodemus ben Gurion, a Talmudic figure of wealth and mystical power. Christian tradition suggest he was martyred, and he is venerated as a saint. His name has come to be synonymous with seekers of the truth and is used as a character in many works of biblically inspired fiction.
3 James The Just


He is considered, next to Paul and Peter, the most important apostolic figure in the Church's history. The Book of Acts specifically names him the head of the Christian church in Jerusalem, and he is frequently cited, both scripturally and apocryphally, as being consulted by both Paul and Peter. So who is he?
Traditionally, he is thought of as Jesus's brother (or, more precisely, His half-brother). Jesus is listed, in the Gospels, as having siblings, some younger than Him. One was named James.
But James was a common name, and there are several mentioned in the Bible. Two of the 12 disciples were named James, but both are listed as having different fathers than Jesus, and neither went on to become James the Just. James the son of Zebedee went on to be known as James the Great, and James the son of Alphaeus was called James the Less.
It is known that he was a contemporary of Jesus, although he seems to have had no real inner-circle status during Christ's ministry. The apocryphal Gospel of Thomas says Christ Himself designated James to lead the movement upon His death. The Apostle Paul initially seems respectful, even subservient, to "James the Lord's brother," calling him a "pillar" of the movement, even though he was later to disagree with him on matters of doctrine.
Some, though, have suggested the "brother" designation was spiritual, rather than physical. St. Jerome, among others, suggested that the doctrine of perpetual virginity indicated James could be a cousin, which, given the tribal associations and clannishness of the Jewish community of the time, seems valid. Such a relationship would indicate a certain social proximity without necessarily being a true sibling.
2 Simon The Zealot


Of Christ's 12 disciples, none are more mysterious than Simon the Zealot. His name was meant to differentiate him from Simon Peter and has come to symbolize, for some, that he was a member of a similarly named political movement that advocated Jewish defiance to Roman law. Some have speculated that he acted, within Christ's inner circle, as a political adviser. His presence then indicated that Jesus had a revolutionary political agenda.
The truth is much less exciting. The "Zealot" movement did not take place until long after the time that Christ would have given Simon his sobriquet, and there has never been any serious evidence that Simon, despite the designation, was a political radical. The name, and the word upon which it is based, did not take on those aggressive undertones until the movement itself was in full swing. More than likely, Simon was given his name because of intense spiritual devotion, rather than any radical political stance.
Nothing else is known of him, at least not with any surety. The Catholic Encyclopedia mentions him as possibly being a brother or cousin of Jesus, with no real evidence. The Eastern Orthodox tradition says he developed his zeal when Jesus attended his wedding and changed water into wine. Some legends say he was martyred; the philosopher Justus Lipsius somehow got it into his head that he was sawed in half.
1 Og


Cited twice specifically, but alluded to frequently in general terms, the Nephilim were a race of violent giants that lived in the pre-Flood world at the same time as humanity. Were they, as some suggest, the offspring of demons and human women? Fallen angels themselves? Or simply the descendants of Seth mentioned in the Dead Sea scrolls, a tribe of cranky cases cursed by God for their rebelliousness? Regardless, they evolved and became known by other names, like the Raphaim, and frequently battled humans for land and power.
The most storied of them was Og, the King of Bashan. He was killed, along with his entire army, and his kingdom was ransacked. All of the survivors—men, women, and children—were put to death, and the strongest and most powerful line of Nephilim descendants was eliminated. Some Nephilim bloodlines continued to do battle with the Israelites, though they were becoming less powerful and dying out. One tribe, the Anakim, allied themselves with the human tribes in Philistia. Goliath was thought to have been one of the last few descendants of the Nephilim.
Goliath's height is given in the earliest manuscripts as 275 centimeters (9′). That's hardly as awe-inspiring as the creature laying in Og's bed, which measured, according to Deuteronomy, 400 centimeters (13′ 6″). That's basically Yao Ming sitting on Shaquille O'Neal's shoulders.
Biblically, descendants of the Nephilim could not have survived the Flood, even though Og and other giants are post-Flood figures. Some biblical literalists have attributed their later existence to the descendants of Noah's family hooking up, once again, with demons. Or, being fallen angels and not human, they did survive the flood.
Jewish tradition gets deeper into information about the Nephilim and their descendants, going against the grain of the biblical account. It tells of Og booking passage on the Ark by promising to act as a slave to Noah and his family. Other accounts have him hanging on to the side of the Ark and riding the flood out rodeo-style.