---
Super Alien Civilizations: What Do They Really Want?
5 Ways to Master the Art of Letting Go
EGYPT'S MOST MYSTERIOUS TOMB
Why aren't we taught this in school? ~ Sacred Geometry, the Architecture of the Universe
One Amazing Fact About Tofu ~ Is this true?
Hubble Finds Giant Halo Around the Andromeda Galaxy
The Detailed Universe: This will Blow Your Mind!
7 Billion: Are You Typical? ~ National Geographic Magazine
When Will Time End? Cosmic Journeys
What Shape Is The Universe?
Advanced Super Humans on Coast To Coast Radio
Posted: 11 May 2015 08:54 PM PDT


Excerpt from huffingtonpost.com

Highly advanced aliens seem MIA, according to a recent study by astronomers at Penn State University. These researchers checked out a huge gob of cosmic real estate -- roughly 100,000 galaxies -- and failed to find clear evidence for any super-sized alien empires.

At first blush, this is an astounding result, given that the universe is more than 13 billion years old. Surely that's enough time for at least a few ambitious alien species to establish the type of galactic-wide imperium so beloved by sci-fi fans.

Could it be that no one is out there? Are we now free to declare ourselves the acme of brain power in this part of the cosmos, and certify that everything out to 50 million light-years is Klingon-free?
That may be a bit overmuch. Let's consider what the Penn State folks really did. In a truly clever piece of work, they used NASA's WISE (Wide-Field Infrared Survey Explorer) space telescope to measure the infrared light coming from all those galaxies. Infrared is produced by anything warm -- by heat.

The second law of thermodynamics mandates that heat is the final product of just about any type of engineered activity. Your auto shoots warm gases out the tailpipe, the local utility plant dumps waste heat in a pond, your TV gets warm... Waste heat is the elephant graveyard of all processes using energy, which is to say, all processes. Even writing a byte of data onto your hard drive produces some heat. So does erasing it.

Now where there's heat, there's light (at least of the infrared variety), so the Penn State astronomers were hunting for galaxies that generated far more than the usual amounts of infrared. This could be a tipoff for what's called a Type III civilization -- the black belt of all societies -- one that's corralled the energy resources of an entire galaxy to power the ultra-advanced lifestyles of its residents. All that activity would generate prodigious amounts of waste heat, and that's what the astronomers sought.

Alas, their hunt failed to discover any interesting cases in which the total amount of heat energy was comparable to the total light energy radiated by all the stars in a galaxy. Bummer.

But hang on. What does that really say?

Allow me to vex you with some numbers. First, consider what the astronomers could have detected. If you add up all the star shine of a typical galaxy, it's roughly 10 billion times more than is belched out by our Sun, or 4 trillion trillion trillion watts. So the Penn State survey was looking for galaxies producing roughly that amount of energy (or more) in waste heat.

Possibly that number is beyond your everyday experience. But consider what it implies. We now know that a galaxy similar to our own could contain up to 100 billion habitable planets. Even if every one of these worlds is gilded with an advanced civilization, they would each have to be burning up a trillion times as much energy as all of Homo sapiens combined for that galaxy to register in the Penn State survey. That's right, a trillion times as many kilowatts as all of humanity's lighting, heating, transport, warfare and other entertainments -- per planet.

That's asking a lot, and obviously these alien super civilizations would have to be much different than our own. Maybe their planets each house a trillion times as many people as Earth, or, at the other extreme, perhaps they have lifestyles that are a trillion times more profligate than ours. Call me timid, but neither seems very reasonable.

The real problem here (if you consider there's a problem) is that our concept of super civilizations assumes that they have the same mindset that we do; they want what we want. We suppose there's a law of the universe insisting that advanced societies are always on a colonization binge, taking control of as much of a galaxy as they can -- similar to the Galactic Federation or the Imperium of Man. Bigger is better.

But while that view of upscale aliens comports with Darth Vader's game plan, is that what sophisticated societies really do? There are serious problems with maintaining an empire spanning 100,000 light-years, not least of which is the finite speed of rockets and radio.

In addition, there's this: In the past few decades, we've finally begun to exploit the fact that there's a lot of benefit to making things smaller rather than bigger (consider your personal electronics). As physicist Richard Feynman once put it when discussing the scale of things, "there's plenty of room at the bottom."

Furthermore, we also tend to assume that big-dog extraterrestrials will relentlessly increase their energy use per capita -- a number that has long been a proxy for the standard of living in our own society. But maybe what really happens is that technology becomes very efficient, and energy use ceases to steadily climb.

In other words, the view that being highly advanced implies having more stuff gulping more energy might be an anthropocentric aberration.

And by the way, in case the numbers bandied about here have numbed your neocortex, let's clearly state their implication: the Penn State study has ruled out the existence of a certain type of society. But it hasn't limited the possibilities for myriad other kinds of extraterrestrial civilizations. Those 100,000 galaxies could be positively stuffed with intelligent beings -- be they biological or artificial -- who happily exist with energy budgets that aren't staggeringly extreme.

So it's still plausible that there's a lot of cosmic company out there. No, the new observations don't jibe with what's portrayed in 21st century space opera. But what our species finds desirable today -- 200,000 years after Homo sapiens 1.0 -- will undoubtedly seem silly and quaint if we ever reach the point of colonizing the galaxy. Star Wars represents today's view of the future, not necessarily that of our descendants or of other species.

I recommend maintaining some perspective: The other inhabitants of the universe are alien -- which is to say, they're not like us.


Posted: 11 May 2015 08:49 PM PDT



Excerpt from huffingtonpost.com

We've all had to let go of things at some point or another. Whether it be a pet, friend, boyfriend, or simply graduating high school. We are constantly ending chapters in order to start new chapters.

Though age and experience can make it a little easier to let go and move forward, completely letting go and allowing ourselves to heal and look to the future with optimism and excitement can be difficult to achieve. Our tendency can be to focus on "what used to be" and idealistically hold on to the past as if it had everything we ever wanted.

The problem with this, however, is that it ultimately causes more suffering. It doesn't encourage growth and it doesn't help us move forward. We have to learn how to find a balance between grieving as we need to and focusing on where we are now and what we want to have that we couldn't before. Here are four ways to help you master the art of letting go:

#1 -- Pay tribute. We can do this in a number of different ways depending on your own personal preference.

You can write down your thoughts and feelings about this in a journal. If you are trying to let go of a person (either with a breakup or the person's passing), you can write them a letter sharing all the things that you valued about the relationship and then you can either send it or keep it for yourself. If the person or pet has passed, you could create a little ritual out of it by leaving the letter in a place that reminds you of that person.

If you're not much into writing, you could also create a photo album or scrapbook to help yourself continue to cherish those memories. This can be a nice way to "organize our pieces of the past" into one activity.

#2 -- Cry when you need to. Know that it's okay to grieve. If a thought or memory comes up when you're grocery shopping then let it out. If it happens in the shower, then let it out. Don't try to hold it in or force yourself to cry cause you think you should. Just let it happen naturally.

Your body and soul knows when it needs to grieve... trust that it will come up when it needs to. And allow it to come out when you feel it come up rather than whether it is "socially appropriate."
Focus on what you need rather than whether it will "make other people uncomfortable." Take care of yourself -- be your own emotionally nurturing mother in this way.


#3 -- Focus on what you need -- not what others think "you need."Don't push yourself to go bowling just because someone told you you need to. Don't listen to what other people "think you need" but rather listen to what you KNOW you need.

If you feel that you just need a night to watch movies by yourself or with a close friend then do that. If you feel up for going out and being in a large group then do that. But don't do it just because someone else told you you should. Do it because you really feel that you need it right now rather than because others told you to.

That being said, if you feel that others are pushing you to do something or if they are making you feel like a "victim" more than giving you the support you need, then kindly tell them to back off. Remember that it's okay to say something like, "I know you're trying to help because you care about me, but I really need _________ right now instead."

#4 -- Focus on what you are gaining. When one door closes another door opens. Whether it be the end of a relationship, job, or the unfortunate passing of someone close to you, there is always another door that opens. Focus on the opportunities that you have.
Ask yourself: What can I know create for myself in my relationships or career? Where can I move? What can I do that I haven't done before? Focus on the possibilities. Dream big. Start to write yourself a bucket list or vision board and begin to make plans to make that a reality.

Ultimately, remember that tomorrow is another day. Life is a journey and even though one day may be very difficult for you, know that with each new day brings the opportunity for a completely new experience. Start each new day fresh and looking forward to all the new opportunities.

Remember: If it is the end of a relationship or the passing of someone close to you, chances are there will always be a small part of you deep within your soul that will always grieve because you miss them. This is okay! The trick here is to not focus so heavily on it that it drags you down.

Give yourself space to cry when it comes up but after you let it all out then go back to focus on the present and creating the life of your dreams. After you let it out, do something that you love to do -- dance, play music, go for a run, do crafts, write... simply, enjoy life!

What do you need today to help yourself "let go" of something you've lost or something that has ended? Share your thoughts in the comments below!

Jennifer is a self and relationship coach and the founder of JenniferTwardowski.com. She helps women worldwide create fulfilling relationships with both themselves and others so they can live happy and joyful lives. Click here for her Free Self and Relationship Healing Meditation and weekly blog updates. To learn about how you can work with her, click here.
Connect with her on Facebook, Twitter, and Instagram!
Follow Jennifer Twardowski on Twitter:www.twitter.com/jenilyn8705
Posted: 11 May 2015 08:44 PM PDT
Dr Otto Schaden and tomb KV-63. The first tomb to be discovered in the Valley of the Kings since King Tut's .

Click to zoom
Posted: 11 May 2015 08:36 PM PDT

Click to zoom
Posted: 11 May 2015 08:36 PM PDT
Posted: 11 May 2015 08:24 PM PDT

Excerpt from hubblesite.org

Scientists using NASA's Hubble Space Telescope have discovered that the immense halo of gas enveloping the Andromeda galaxy, our nearest massive galactic neighbor, is about six times larger and 1,000 times more massive than previously measured. The dark, nearly invisible halo stretches about a million light-years from its host galaxy, halfway to our own Milky Way galaxy. This finding promises to tell astronomers more about the evolution and structure of majestic giant spirals, one of the most common types of galaxies in the universe.

"Halos are the gaseous atmospheres of galaxies. The properties of these gaseous halos control the rate at which stars form in galaxies according to models of galaxy formation," explained the lead investigator, Nicolas Lehner of the University of Notre Dame, Indiana. The gargantuan halo is estimated to contain half the mass of the stars in the Andromeda galaxy itself, in the form of a hot, diffuse gas. If it could be viewed with the naked eye, the halo would be 100 times the diameter of the full Moon in the sky. This is equivalent to the patch of sky covered by two basketballs held at arm's length.

The Andromeda galaxy, also known as M31, lies 2.5 million light-years away and looks like a faint spindle, about 6 times the diameter of the full Moon. It is considered a near-twin to the Milky Way galaxy.

Because the gas in Andromeda's halo is dark, the team looked at bright background objects through the gas and observed how the light changed. This is a bit like looking at a glowing light at the bottom of a pool at night. The ideal background "lights" for such a study are quasars, which are very distant bright cores of active galaxies powered by black holes. The team used 18 quasars residing far behind Andromeda to probe how material is distributed well beyond the visible disk of the galaxy. Their findings were published in the May 10, 2015, edition of The Astrophysical Journal.

Earlier research from Hubble's Cosmic Origins Spectrograph (COS)-Halos program studied 44 distant galaxies and found halos like Andromeda's, but never before has such a massive halo been seen in a neighboring galaxy. Because the previously studied galaxies were much farther away, they appeared much smaller on the sky. Only one quasar could be detected behind each faraway galaxy, providing only one light anchor point to map their halo size and structure. With its close proximity to Earth and its correspondingly large footprint on the sky, Andromeda provides a far more extensive sampling of a lot of background quasars.
"As the light from the quasars travels toward Hubble, the halo's gas will absorb some of that light and make the quasar appear a little darker in just a very small wavelength range," explains co-investigator J. Christopher Howk, also of Notre Dame. "By measuring the dip in brightness in that range, we can tell how much halo gas from M31 there is between us and that quasar."

The scientists used Hubble's unique capability to study the ultraviolet light from the quasars. Ultraviolet light is absorbed by Earth's atmosphere, which makes it difficult to observe with a ground-based telescope. The team drew from about 5 years' worth of observations stored in the Hubble data archive to conduct this research. Many previous Hubble campaigns have used quasars to study gas much farther away than — but in the general direction of — Andromeda, so a treasure trove of data already existed.

But where did the giant halo come from? Large-scale simulations of galaxies suggest that the halo formed at the same time as the rest of Andromeda. The team also determined that it is enriched in elements much heavier than hydrogen and helium, and the only way to get these heavy elements is from exploding stars called supernovae. The supernovae erupt in Andromeda's star-filled disk and violently blow these heavier elements far out into space. Over Andromeda's lifetime, nearly half of all the heavy elements made by its stars have been expelled far beyond the galaxy's 200,000-light-year-diameter stellar disk.

What does this mean for our own galaxy? Because we live inside the Milky Way, scientists cannot determine whether or not such an equally massive and extended halo exists around our galaxy. It's a case of not being able to see the forest for the trees. If the Milky Way does possess a similarly huge halo, the two galaxies' halos may be nearly touching already and quiescently merging long before the two massive galaxies collide. Hubble observations indicate that the Andromeda and Milky Way galaxies will merge to form a giant elliptical galaxy beginning about 4 billion years from now.
Posted: 11 May 2015 07:10 PM PDT
Posted: 11 May 2015 07:03 PM PDT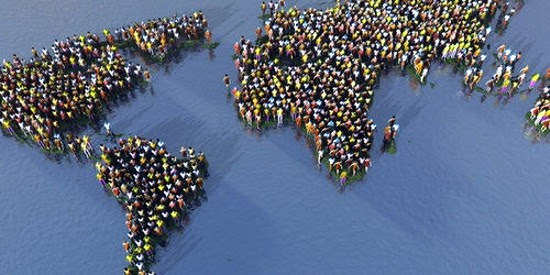 Posted: 11 May 2015 06:59 PM PDT
Posted: 11 May 2015 06:57 PM PDT
Posted: 11 May 2015 06:52 PM PDT