---
Study Suggests Baby Chicks Can Count! ~ Video

Is Cancer a Gift and Not a Curse? Greg Giles

SpaceX video demonstrates the future of space launches ~ Video

Astronomers find ancient solar system more than double ours in age

Hubble Juiced! ~ CU-Boulder to Design Space Telescope 1000 Times Sharper than Hubble

Cycles in the Sky: Crash Course Astronomy #3

The Magic of Fibonacci Numbers ~ With Arthur Benjamin:

Milky Way Versus Andromeda As Seen from Earth
Posted: 30 Jan 2015 11:01 PM PST


Excerpt from nbcnews.com
By Tia Ghose, LiveScience


It's not just humans who can count: Newly published research suggests chicks seem to have a number sense, too.
Scientists found that chicks seem to count upward, moving from left to right. They put smaller numbers on the left, and larger numbers on the right — the same mental representation of the number line that humans use.
"Our results suggest a rethinking of the relationship between numerical abilities and verbal language, providing further evidence that language and culture are not necessary for the development of a mathematical cognition," said study lead author Rosa Rugani, a psychologist at the University of Padova in Italy.

The left-to-right way of thinking about ascending numbers seems to be embedded in people's mental representations of numbers, but it's not clear exactly why. Is it an artifact of some long-lost accident of history, or is it a fundamental aspect of the way the brain processes numbers?
To help answer those questions, Rugani and her colleagues trained 3-day-old chicks to travel around a screen panel with five dots on it to get to a food treat behind it. This made the five-dot panel an anchor number that the chicks could use for comparison with other numbers.
After the chicks learned that the five-dot panel meant food, the researchers removed that panel and then placed the chicks in front of two panels, one to the left and the other to the right, that each had two dots. The chicks tended to go to the left panel, suggesting that they mentally represent numbers smaller than five as being to the left of five.
When the researchers put the chicks in front of two panels that each had eight dots, the chicks walked to the panel on the right. This suggests the chicks mentally represent numbers larger than five as being to the right of five, the researchers said.
In a second experiment, the researchers repeated the whole process, but started with a panel that had 20 dots instead of five. They then added two other panels that had either eight or 32 dots. Sure enough, the baby chicks tended to go to the left when the screens had just eight dots, and to the right when they had 32 dots, according to the findings published in this week's issue of the journal Science.
"I would not at all be surprised that the number spatial mapping is also found in other animals, and in newborn infants," Rugani said.

Click to zoom
Posted: 30 Jan 2015 10:52 PM PST

We all, thankfully, have to leave this world and return home eventually, one day, when it is time. This is an inevitable fact of our journey here. With this in mind, can you think of any other way to leave here that allows a soul to look back and reflect upon their lives, their lessons learned and their lessons perhaps missed? That permits a soul to see their loved ones one last time to properly say farewell - for now at least? Can you think of any other way to leave here that affords enough time to prepare oneself for the incredible journey ahead?

Can you imagine the sadness a soul must feel if he or she passed away suddenly, leaving no time whatsoever to say goodbye to all those who they have loved so dearly? Could you imagine the shock a soul may feel upon suddenly being whisked away to awaken on the other side, having absolutely no idea their time was approaching? Could you imagine what that kind of departure would do to many souls?

Yes, there is no doubt, cancer is a terrible disease that ravages the body and many times causes great pain, but could this be the universe's way to assist someone overcome perhaps the greatest obstacle to leaving this plane and returning home - letting go?

With all these gifts that cancer brings, can it be such a curse?

Greg Giles
Posted: 30 Jan 2015 10:52 PM PST
When Falcon Heavy lifts off later this year, it will be the most powerful operational rocket in the world by a factor of two. Thrust at liftoff is equal to approximately eighteen 747 aircraft operating simultaneously.


An animation depicting SpaceX's Falcon Heavy rocket lifting off into space shows the rocket's three boosters separating from the spacecraft and flying back to their launch site, where they land upright.

An amazing new video from SpaceX shows the spaceflight company's incredible plans for a reusable mega-rocket.
The 2.5-minute Falcon Heavy rocket animation shows the spaceflight firm's plans to land the three boosters of its giant rocket back on Earth after launching missions to orbit. The three nine-engine boosters are equivalent to the booster used is used to power the core stage of the Falcon 9 rocket used to launch payloads to space currently. SpaceX representatives expect to start flights of the Falcon 9 Heavy later this year.

"When Falcon Heavy lifts off later this year, it will be the most powerful operational rocket in the world by a factor of two," SpaceX representatives wrote in a video description. "Thrust at liftoff is equal to approximately eighteen 747 aircraft operating simultaneously."
SpaceX's Falcon Heavy will stand a towering 224.4 feet (68.4 meters) tall with 27 engines powering its three-booster first stage. The rocket's second stage has one engine that can help deliver a satellite or other payload to a chosen orbit after it separates from the first stage of the rocket.
The new video shows a Falcon Heavy soaring into space from the historic Launch Complex-39A at NASA's Kennedy Space Center in Florida. (SpaceX signed a deal with NASA to use the launch pad in 2014). After the two side boosters separate, they turn back around and make a perfect landing, upright on a pad on Earth. The core booster of the rocket separates from the second stage before flying back to the ground like the other two nine-engine boosters. The rocket's second stage finishes delivering its satellite payload to orbit.
Achieving complete rocket reusability has long been a goal of SpaceX and its founder, billionaire entrepreneur Elon Musk, as a way of dramatically lowering the cost of spaceflight for both unmanned launches and, eventually, crewed missions. But SpaceX still has a way to go before this kind of reusable rocket dream can become a reality.
The company recently brought the boost stage of its current Falcon 9 rocket back from space in an attempt to land it on a floating platform in the Atlantic Ocean. While SpaceX did managed to return the stage back to Earth, it exploded after impacting the platform. SpaceX founder Elon Musk later said the returning rocket ran out hydraulic fluid used to control its stabilization fins during the descent.
The company has managed to successfully practice Falcon 9 rocket landings in the ocean just before splashdown, and Musk recently said that SpaceX will try to land another Falcon 9 booster on its ocean platform soon, possibly in February.
"Next rocket landing on drone ship in 2 to 3 weeks [with] way more hydraulic fluid," Musk wrote on Twitter on Jan. 16. "At least it [should] explode for a [different] reason."

Click to zoom
Posted: 30 Jan 2015 10:44 PM PST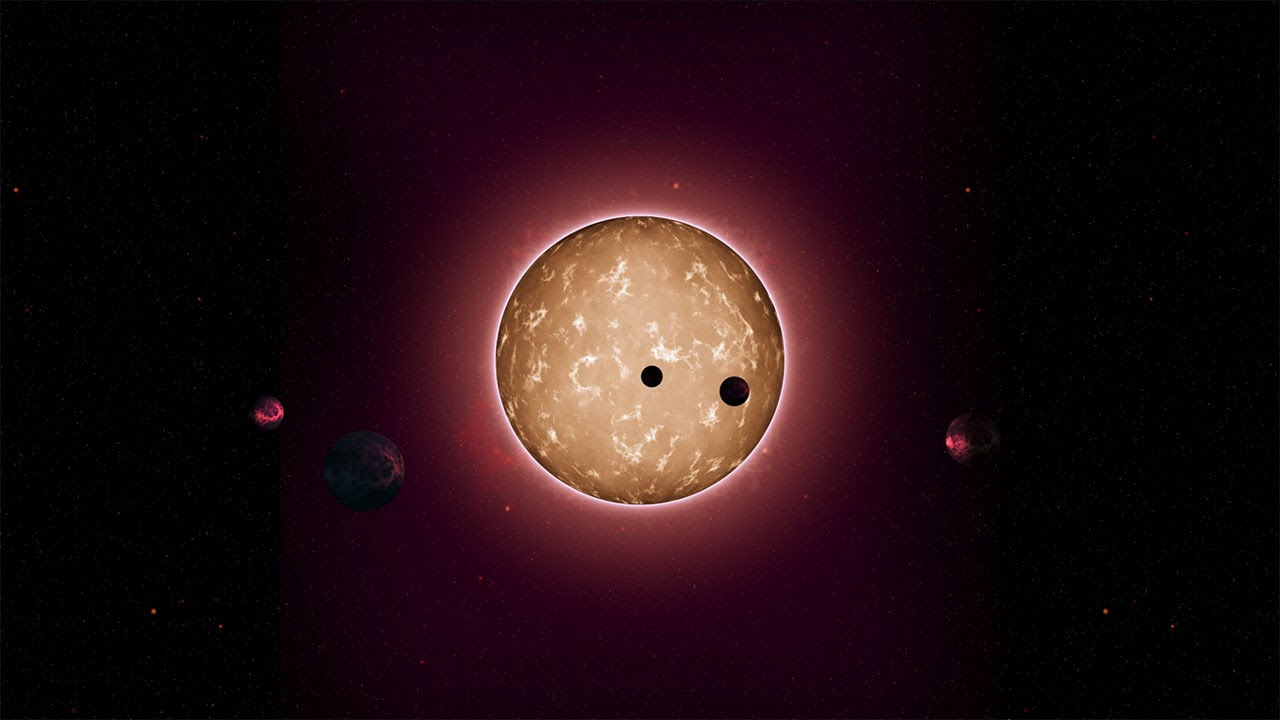 The ancient solar system Kepler-444
A newly discovered solar system -- with five small rocky planets -- makes ours look like a baby.

An international team of astronomers announced Tuesday that this extrasolar system is 11.2 billion years old. With the age of the universe pegged at 13.8 billion years, this is the oldest star with close-to-Earth-size planets ever found.

By comparison, our solar system is 4.5 billion years old.

The five planets are smaller than Earth, with the largest about the size of Venus and the smallest just bigger than Mercury. These planets orbit their star in less than 10 days at less than one-tenth the Earth's distance from the sun, which makes them too close for habitation, said the University of Sydney's Daniel Huber, part of the team.

"We've never seen anything like this -- it is such an old star and the large number of small planets make it very special," Huber said in a statement. "It is extraordinary that such an ancient system of terrestrial-sized planets formed when the universe was just starting out, at a fifth its current age."

Lead researcher Tiago Campante of the University of Birmingham in England noted in a statement that by now knowing close-to-Earth-size planets formed so long ago, that "could provide scope for the existence of ancient life in the galaxy."

Campante, an asteroseismologist, measured oscillations from the star to determine the age and size of this compact system.

NASA's Kepler planet-hunting spacecraft was used to make the observations over a four-year period. Thus, the bright sunlike star at the heart of this system is named Kepler-444. It's in the Constellation Lyre.

The team represented scientists from Europe, Australia and the United States. Their findings were reported in the latest edition of the Astrophysical Journal.

Kepler has discovered more than 1,000 confirmed exoplanets -- planets outside our solar system -- and nearly 4,200 candidates since its launch in 2009 and its revitalization in last year following a breakdown in its pointing system. It reached the 1,000-mark earlier this month.
Posted: 30 Jan 2015 10:27 PM PST
The Hubble Space Telescope

Excerpt from utahpeoplespost.com


Researchers from the Department of Astrophysical and Planetary Sciences at the University of Colorado Boulder are currently working on an improved version of space telescope that could provide space images nearly 1,000 times sharper than those provided by long-running Hubble.

The new space telescope, dubbed the Aragoscope, is named after a French astronomer called Francois Arago. The new telescope is exclusively designed by the CU- Boulder scientists and involves a brand new technology developed by the university. According to its designers, the space optical instrument would be lighter, slimmer, and sharper than Hubble.

Additionally, the Aragoscope will involve several independent pieces that can be later assembled in space. So, the launching costs of these smaller building blocks will be significantly reduced.
Traditionally, space telescopes have essentially been monolithic pieces of glass like the Hubble Space Telescope. But the heavier the space telescope, the more expensive the cost of the launch,"
said Anthony Harness, one of the researchers involved in the project and doctoral student at the CU-Boulder.

However, the new instrument will not replace Hubble, which is scheduled to be shut down in 5 years time. Last year, Hubble had its fifth and final maintenance service, and it was still in a pretty good shape although one of its six gyroscopes couldn't be stabilized. Despite Hubble has been operating since 1990, NASA engineers hope that it will make it to its 30th anniversary.

If Hubble remains operational, NASA plans to use it along with its successor, the James Webb Space Telescope, which is scheduled to be launched in October 2018. Astronomers hope that the two space telescopes, which use two different imaging methods, would help them better understand the origins and early evolution of the universe.

But the UC-Boulder team claim that their new space telescope would surpass Hubble with its enhanced capacity of spotting distant Earth-like planets in the depths of a remote universe...

Posted: 30 Jan 2015 10:18 PM PST
Posted: 30 Jan 2015 10:16 PM PST
Posted: 30 Jan 2015 08:40 PM PST
Our beautiful Milky Way galaxy