---
A Major Victory for the Open Web
As Dawn Spacecraft Approaches, A Second Mysterious Light Emerges on Planet Ceres
Bees Do It, Humans Do It ~ Bees can experience false memories, scientists say
"Seedling" For Supermassive Black Holes Found
Another Problem for Evolution Theory? 'Big Brain' Gene Found in Humans, But Not in Chimps
The ancient myth of Prometheus ~ The God Banished from Earth ~ An animated presentation
Telescopes: Crash Course Astronomy #6
Which telescope to buy?
10 Terrifying Cursed Objects That Actually EXIST!
Breaking Up Over A Stupid Argument
Posted: 27 Feb 2015 05:56 PM PST

Excerpt from blog.mozilla.org We just accomplished something very important together. Today, the U.S. Federal Communications Commission voted for strong net neutrality protections. This happened because millions of people — including many hundreds of thousands in Mozilla's community — joined together as citizens of the Web to demand those strong protections.


This is an important victory for the world's largest public resource, the open Web. Net neutrality is a key aspect of enabling innovation from everywhere, and especially from new players and unexpected places. Net neutrality allows citizens and consumers to access new innovations and judge the merit for themselves. It allows individual citizens to make decisions, without gate-keepers who decide which possibilities can become real. Today's net neutrality rules help us protect this open and innovative potential of the Internet.

Mozilla builds our products to put this openness and opportunity into the hands of individuals. We are organized as a non-profit so that the assets we create benefit everyone. Our products go hand-in-hand with net neutrality; they need net neutrality to bring the full potential of the Internet to all of us.

Today's net neutrality rules are an important step in protecting opportunity for all. This victory was not inevitable. It occurred because so many people took action, so many people put their voice into the process. To each of you we say "Thank you." Thank you for taking the time to understand the issue, for recognizing it's important, and for taking action. Thank you for helping us build openness and opportunity into the very fabric of the Internet.
Posted: 27 Feb 2015 03:46 PM PST
Photo : NASA/JPL-Caltech/UCLA/MPS/DLR/IDA/PSI


Excerpt from sciencetimes.com

Originally discovered in 1801 by an astronomer in Sicily, Ceres has had quite an interesting history to date. Originally believed to be a shining star in the sky, when it was first observed to move, it was redesignated as a comet.

"I have announced this star as a comet" astronomer who discovered Ceres, Giuseppe Piazzi de Palermo said. "But since it is not accompanied by any nebulosity and further, since its movement is so slow and rather uniform, it has occurred to me several times that it might be something better than a comet."

Piazzi fell ill and passed away before he could ever find Ceres again, but thanks to his preliminary research, astronomers today have verified that the beaming light in the sky is something better than a comet-it's a dwarf planet. And though it is largely composed of ice and rock, lying in-between Mars and Jupiter, Ceres continues to fascinate astronomers with its strange and unanswerable features.

To better answer Piazzi's original questions, and some new ones that have arisen in the more than two centuries since it was first discovered, researchers with NASA developed the Dawn Spacecraft mission which was originally launched in 2007. After a successful 14-month-orbit around Vesta in the asteroid belt, Dawn is now moving onto the next dwarf planet and will arrive to Ceres within the next week. And the first question that the Dawn mission would like to answer is a glaring one, visible on the surface.

When astronomers first peering into the telescope to view Ceres, a glaring spot of light seemed to illuminate through the rocky surface. Data has been collected, and though researchers have made educated guesses as to what it may be, they have not met an answer that could quite fit the bill. Today this question is even further complicated as with Dawn's close approach NASA has captured an even closer glimpse of the surface of Ceres, and now it appears that two shining spots are visible on the surface-not just one.

Captured on last Thursday, Feb. 19, the two bright spots appeared when Dawn was only 29,000 miles away from Ceres. But while NASA researchers are still pondering the question of two spots, the team is expecting even a few more surprises as Dawn will orbit the dwarf planet a mere 233 miles from its surface, detailing it entirely to develop a detailed 3D image of Ceres.

"We knew from Hubble observations that there was variation in the colouration and reflectivity of the surface" lead scientist with the Dawn mission, Chris Russell says. "But when we got [near] Ceres we saw bright spots, and they are really, really bright."

So what could the spots be?

While researchers are just speculating, until they can gain a better view of the surface, NASA astronomers say that the two spots may be patches of ice reflecting sunlight, who became exposed when objects from the nearby asteroid belt collided. Another posited theory is that shiny minerals or ice could be pushed to the surface by subterranean volcanic activity. But they're still not ruling out that the lights may be evidence of Ceres hiding liquid water. And if it is, that means that life on the distant dwarf planet may exist.
Posted: 27 Feb 2015 03:42 PM PST

Excerpt from csmonitor.com


Researchers at Queen Mary University of London have found the first evidence of false memories in non-human animals.


It has long been known that humans – even those of us who aren't famous news anchors – tend to recall events that did not actually occur. The same is likely true for mice: In 2013, scientists at MIT induced false memories of trauma in mice, and the following year, they used light to manipulate mice brains to turn painful memories into pleasant ones.
Now, researchers at Queen Mary University of London have shown for the first time that insects, too, can create false memories. Using a classic Pavlovian experiment, co-authors Kathryn Hunt and Lars Chittka determined that bumblebees sometimes combine the details of past memories to form new ones. Their findings were published today in Current Biology.
"I suspect the phenomenon may be widespread in the animal kingdom," Dr. Chittka said in a written statement to the Monitor.
First, Chittka and Dr. Hunt trained their buzzing subjects to expect a reward if they visited two artificial flowers – one solid yellow, the other with black-and-white rings. The order didn't matter, so long as the bee visited both flowers. In later tests, they would present a choice of the original two flower types, plus one new one. The third type was a combination of the first two, featuring yellow-and-white rings. At first, the bees consistently selected the original two flowers, the ones that offered a reward.
But a good night's sleep seemed to change all that. One to three days after training, the bees became confused and started incorrectly choosing the yellow-and-white flower (up to fifty percent of the time). They seemed to associate that pattern with a reward, despite having never actually seen it before. In other words, the bumblebees combined the memories of two previous stimuli to generate a new, false memory.
"Bees might, on occasion, form merged memories of flower patterns visited in the past," Chittka said. "Should a bee unexpectedly encounter real flowers that match these false memories, they might experience a kind of deja-vu and visit these flowers expecting a rich reward."
Bees have a rather limited brain capacity, Chittka says, so it's probably useful for them to "economize" by storing generalized memories instead of minute details.
"In bees, for example, the ability to learn more than one flower type is certainly useful," Chittka said, "as is the ability to extract commonalities of multiple flower patterns. But this very ability might come at the cost of bees merging memories from multiple sequential experiences."
Chittka has studied memory in bumblebees for two decades. Bees can be raised and kept in a lab setting, so they make excellent long-term test subjects.
"They are [also] exceptionally clever animals that can memorize the colors, patterns, and scents of multiple flower species – as well as navigate efficiently over long distances," Chittka said.
In past studies, it was assumed that animals that failed to perform learned tasks had either forgotten them or hadn't really learned them in the first place. Chittka's research seems to show that animal memory mechanisms are much more elaborate – at least when it comes to bumblebees.
"I think we need to move beyond understanding animal memory as either storing or not storing stimuli or episodes," Chittka said. "The contents of memory are dynamic. It is clear from studies on human memory that they do not just fade over time, but can also change and integrate with other memories to form new information. The same is likely to be the case in many animals."
Chittka hopes this study will lead to a greater biological understanding of false memories – in animals and humans alike. He says that false memories aren't really a "bug in the system," but a side effect of complex brains that strive to learn the big picture and to prepare for new experiences.
"Errors in human memory range from misremembering minor details of events to generating illusory memories of entire episodes," Chittka said. "These inaccuracies have wide-ranging implications in crime witness accounts and in the courtroom, but I believe that – like the quirks of information processing that occur in well known optical illusions – they really are the byproduct of otherwise adaptive processes."
"The ability to memorize the overarching principles of a number of different events might help us respond in previously un-encountered situations," Chittka added. "But these abilities might come at the expense of remembering every detail correctly."
So, if generating false memories goes hand in hand with having a nervous system, does all this leave Brian Williams off the hook?
"It is possible that he conflated the memories," Chittka said, "depending on his individual vulnerability to witnessing a traumatic event, plus a possible susceptibility to false memories – there is substantial inter-person variation with respect to this. It is equally possible that he was just 'showing off' when reporting the incident, and is now resorting to a simple lie to try to escape embarrassment. That is impossible for me to diagnose."
But if Mr. Williams genuinely did misremember his would-be brush with death, Chittka says he shouldn't be vilified.
"You cannot morally condemn someone for reporting something they think really did happen to them," Chittka said. "You cannot blame an Alzheimer patient for forgetting to blow out the candle, even if they burn down the house as a result. In the same way, you can't blame someone who misremembers a crime as a result of false memory processes."
Posted: 27 Feb 2015 03:35 PM PST


By William Large

A recently discovered black hole may help astronomers to piece together the family tree of these enigmatic cosmic objects. While most black holes are classified as either stellar-mass or the supermassive black holes that can be found at the center of some galaxies, this new find fits into neither category.

The discovery, called the intermediate-mass black hole (IMBH), has proved to be a tricky proposition. With a mass somewhere between a few hundred to a few hundred thousand times that of our own Sun, the size of these intermediates can vary widely.

This particular black hole was found in an arm of the spiral galaxy NGC-2276, and has been sensibly named NGC-2276-3c. Lying about 100 million light-years from earth, astronomers were able to tease images through the use of NASA's Chandra X-Ray Observatory and the European Very Long Baseline Interferometry Network.

Although researchers have theorized about the existence of these IMBHs, locating one has proven elusive until now. A recent to-be-published paper by an international team of researchers delves into the specifics of NGC-2276-3c.

"Astronomers have been looking very hard for these medium-sized black holes," study co-author Tim Roberts, of the University of Durham in the United Kingdom, said in a statement. "There have been hints that they exist, but the IMBHs have been acting like a long-lost relative that isn't interested in being found."

So what was found? It appears that the recently discovery has characteristics of both the smaller stellar-mass and the much larger supermassive black holes. It serves as an intermediary between the two, and some think that these intermediaries are the beginnings of what could very well become a supermassive.

The team of researchers also noted that the black holes is firing off super powerful blasts of radio jets. Think of these as material, traveling at nearly the speed of light and emitting radio waves, which are thrown out of dense objects. Our newly found black hole is shooting them out almost 2000 light-years into space. Within a radius of approximately 1000 light-years around NGC-2276-3c there are no new star formations, suggesting that the radio jets are pushing out all the gas necessary for star creation.

The full report on NGC-2276-3c should be appearing shortly in the journal Monthly Notices of the Royal Astronomical Society.
Posted: 27 Feb 2015 03:30 PM PST
M. Florio and W. Huttner / Max Planck Institute
This embryonic mouse cerebral cortex was stained to identify cell nuclei (in blue) and a marker for deep-layer neurons (in red). The human-specific gene known as ARHGAP11B was selectively expressed in the right hemisphere: Note the folding of the neocortical surface.
ave the way for the rise of human intelligence by dramatically increasing the number of neurons found in a key brain region.
This gene seems to be uniquely human: It is found in modern-day humans, Neanderthals and another branch of extinct humans called Denisovans, but not in chimpanzees.
By allowing the brain region called the neocortex to contain many more neurons, the tiny snippet of DNA may have laid the foundation for the human brain's massive expansion.
"It is so cool that one tiny gene alone may suffice to affect the phenotype of the stem cells, which contributed the most to the expansion of the neocortex," said study lead author Marta Florio, a doctoral candidate in molecular and cellular biology and genetics at the Max Planck Institute of Molecular Cell Biology and Genetics in Dresden, Germany.
She and her colleagues found that the gene, called ARHGAP11B, is turned on and highly activated in the human neural progenitor cells, but isn't present at all in mouse cells. This tiny snippet of DNA, just 804 genetic bases long, was once part of a much longer gene. Somehow, this fragment was duplicated, and the duplicated fragment was inserted into the human genome.
In follow-up experiments, the team inserted and turned on this DNA snippet in the brains of mice. The mice with the gene insertion grew what looked like larger neocortex regions.
The researchers reviewed a wide variety of genomes from modern-day and extinct species — confirming that Neanderthals and Denisovans had this gene, while chimpanzees and mice do not. That suggests that the gene emerged soon after humans split off from chimpanzees, and that it helped pave the way for the rapid expansion of the human brain.
Florio stressed that the gene is probably just one of many genetic changes that make human cognition special.
The gene was described in a paper published online Thursday by the journal Science.
Posted: 27 Feb 2015 03:19 PM PST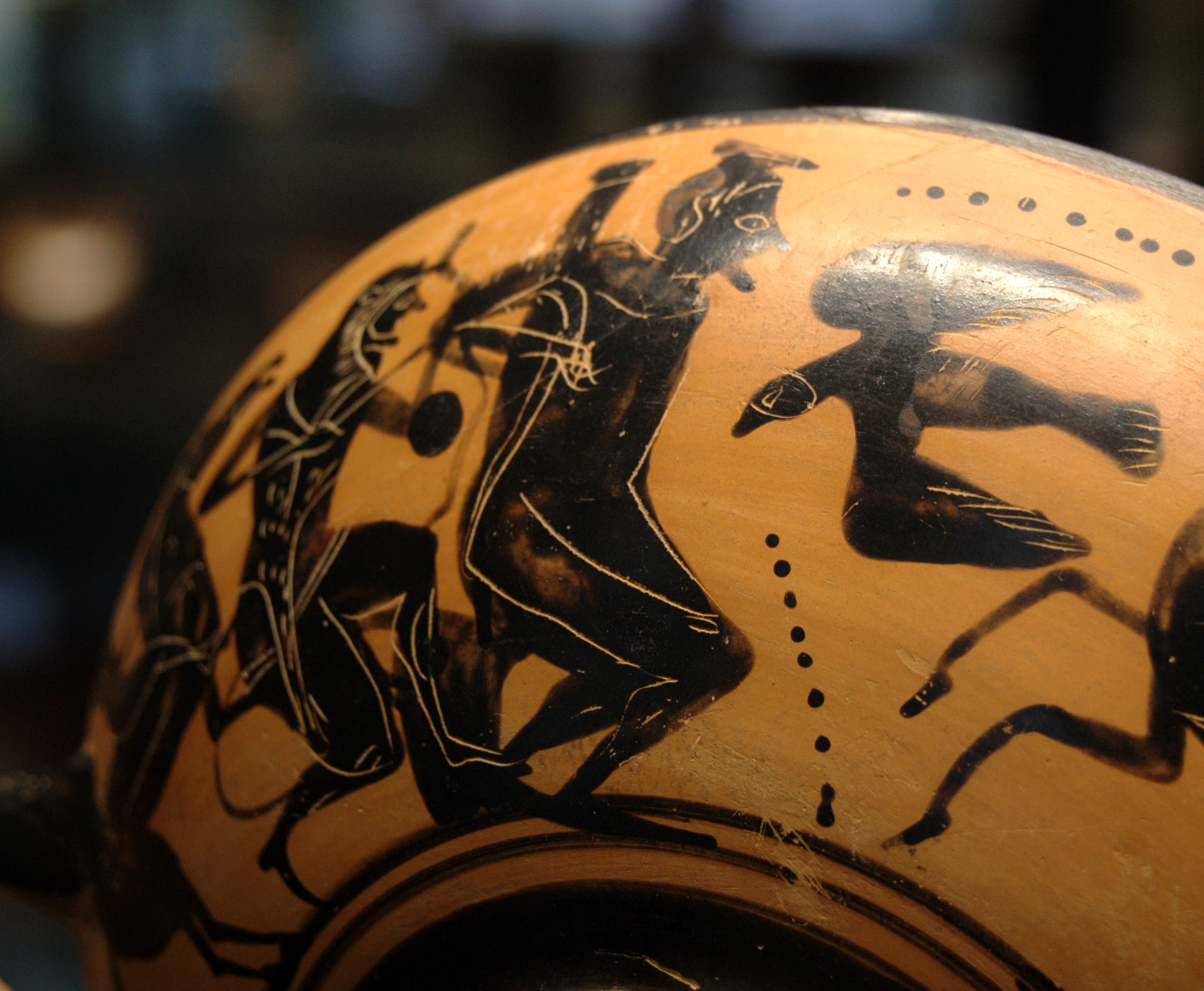 Heracles freeing Prometheus from his torment by the eagle (Attic black-figure cup, c. 500 BC)
Click to zoom
Posted: 27 Feb 2015 03:12 PM PST
Click to zoom
Posted: 27 Feb 2015 03:13 PM PST
Click to zoom
Posted: 27 Feb 2015 03:05 PM PST
Click to zoom
Posted: 27 Feb 2015 03:02 PM PST